Experience No Bars. No Springs. Pure Comfort.
The world's most comfortable sleeper sofa has style
Custom is Standard
The Comfort Sleeper® is the best sleeper sofa available, featuring a patented sleep system with no bars and no springs. With fifteen great styles in seven sizes, from cot to king, a full-length mattress, Crypton© protection, and an exclusive partnership with Tempur-pedic®, it has everything you've come to know and love and more.
Style with a Better Sit and Sleep
Sleep mechanism without bars or springs
All mattresses are 80" long; 5-10" longer than average sleepers
Three mattress options including Tempur-Pedic®
Maximized sleep surface uses less floor space
Fits narrow spaces as small as 16" when disassembled
King, queen plus, queen, full, twin, cot, and double-cot sizes
Modular pieces integrate into sectional configurations
Down cushions available
Nailhead trim available on seect models
What You Sleep On Is Important
All American Leather Sofa Sleepers come standard with a very comfortable Premier Mattress. Upgrade to gel, or even Tempur-Pedic®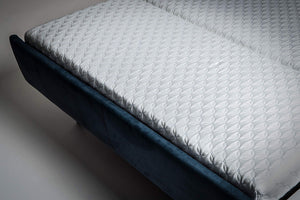 Premier
Every Comfort Sleeper comes standard with the Premier mattress, made with luxurious high-density foam and covered with ultra-soft Crypton - fabric that's waterproof, stain proof, anti-microbial and allergen-free.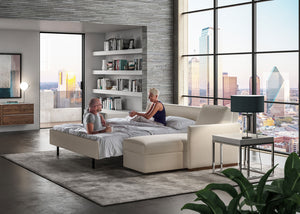 Gel
For those who prefer a cooler-feeling mattress with all of the benefits of even support across all pressure points, the Comfort Sleeper offers a high-quality gel mattress. It absorbs body heat, while cooling the surface and providing a comfortable night's sleep.
Tempur-Pedic®
Comfort Sleeper® is proud to be the only sleeper in the world that offers a Tempur-Pedic mattress. Tempur-Pedic foam conforms perfectly to your body, allowing your shoulders and hips to sink into the mattress. This technology virtually eliminates painful pressure points, greatly reducing your body's need to toss and turn.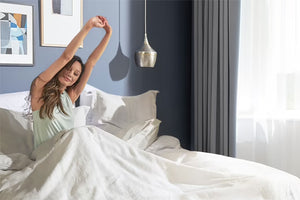 One Size Doesn't Fit All
So there's seven sizes
Choose the Comfort Sleeper® that fits your living space - available in King, Queen Plus, Queen, Full, Twin, Cot and Double Cot*. All of the Comfort Sleeper sleeping surfaces are a full 80 inches in length**, yet they take up less floor area than conventional sleepers (whose mattresses are only 70-75 inches in length) because the American Leather patented sleep system extends from within the seat back of the sofa.
*double-cot not pictured, styles vary
**Rogue is extra long 86" in total length
Make It a Sectional
When the term "sectional sofa" is mentioned, most people immediately picture an oversized L-shaped couch that takes up most of the living room. While this description may pertain to some sectionals, it does not do this versatile piece of furniture justice. The sectional sofa is one of the most practical pieces of upholstered furniture for large and small living rooms alike. In fact, many different pieces can make up a typical sectional configuration – from a single chair to a chaise to a sleeper sofa.
Endless Possibilities in Any Style
The cover you choose is a reflection of style, life, and your home rolled into one. American Leather searched the globe to bring the most fashionable, durable, and beautiful leathers and fabrics to incorporate into your design. A wide array of color and texture options ensure that there's a perfect solution for every home, office, or business.